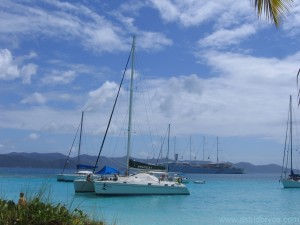 When is it time to let go of a dream? What are the criteria for taking your dream to the vet and just nicely, peacefully putting it to sleep?
For the past six years, I have dreamed of bareboat chartering (i.e. renting) a catamaran sailboat in the British Virgin Islands. I would be the skipper. My husband would be my first mate. Between the two of us, we have all the sailing knowledge and skills to happily cruise the waters of the BVI.
What we need are other people to help share the costs. Unfortunately, it is not cheap to charter a sailboat. The roughly forty-foot long boats, or should I say floating condos, cost around $6000 for one week. True, they comfortably sleep 8 people, so the cost breaks down to $125 per person per night. That is a reasonable rate for a hotel room in paradise.
The problem is finding 6 other people who have time and money to spend, and the desire to spend it on a sailboat in the Caribbean. We have repeatedly tried to recruit such a group, with just no luck.
Last year, we tried a last ditch effort, calling it BVI 2012 or Bust. Well, the planned month in 2012 has passed, and we still have not gotten to the BVI.
Maybe we are being a bit too picky on who comes with us? I could assemble a group of random people. However, based on past experience, I am unwilling to do that. To make a long story short, back in 2006 we went to the BVI with a sailing company I will not name. We had the worst experience of our lives. The people on the boat, including the paid staff, made our week in paradise a week in hell.
Two of our good friends had joined us on this trip. One friend, "Al", is the most mild-mannered man I have ever met. He is always pleasant and nice, even in trying situations. Well, we saw his limits. The sight of even Al swearing about the situation and talking of leaving the boat made me feel better about my own discontent. He managed to get a partial refund. My husband and I had no luck. We spent entirely too much money, more than we could afford at the time, on a week of broken promises.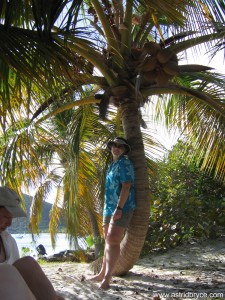 Since that ill-fated trip, we have wanted to go back and experience the British Virgin Islands for the paradise it truly is.
Fate has intervened, and given us one more winter to attempt a BVI trip before the added complexities and cost of little ones. But, we still can't assemble 6 other people.
If my husband and I are willing to pay a bit more, we could charter a smaller boat that only holds 4 people and costs $4000 per week. Then, we just need to find ONE couple who is willing to join us. As of this moment, even that seems impossible.
At this point, I am torn up by this trip. I really want it to happen, but I am so frustrated at my inability to find people, the right people, to help share costs. I am really bad with the death of dreams. Is it time to take this one to the vet?
Let me know what you think in the comments below.