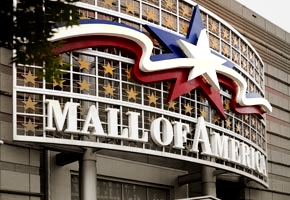 The Mall of America is the mall closest to my home. On my last trip, I was amused at the similarities between going to the mall and going on a wilderness expedition.
Plan ahead and prepare:
What is your Goal? Hang out and have fun, or summit that peak or purchase an outfit for a specific occasion? I was on the hunt for a summer dress to wear to an outdoor wedding.
How are you going to achieve that goal? Where are you going to camp, or what stores do you want to visit? Are there particular times of day that are more conducive to your goal, like summiting before the afternoon thunderstorm or arriving at the mall early before the crowds hit? I am cheap, so I wanted to hit the disposable clothing stores such as Forever 21, lola, and Charlotte Russe. I don't like crowds, so I planned on arriving when the stores opened.
Where on the map are you going? Find your campsites/stores on the map. Will you need a navigational aid to find them, such as a compass or a mall layout cheat sheet? I had a post-it note with the stores I wanted to hit, their "addresses" in the mall (N221, etc), and a square with the four anchor stores labeled so I knew N221 was between Nordstrom and Sears.
What is your entry point? Where are you going to park? I parked in the west ramp by Nordstrom, and entered through the store.
What will you eat and drink? Just like planning your meals for the wilderness, forethought needs to be given to mall excursions. Mall food isn't known to be the healthiest or cheapest. I brought a small bag of trail mix with me.
On trip:
Pace yourself. The summit/stores aren't going anywhere. It is a long way up that hill or around the mall (1 mile per lap!).
Consume appropriate food and water. Just as low blood sugar or dehydration can make you irritable on a hike, it can diminish your shopping experience. I was at the mall longer than I expected, so I ate both my bag of trail mix and a small snack I purchased at the mall. Drinking fountains were nice.
Enjoy the wildlife. Did you see a bear? A moose? People watching at the mall is excellent. Appreciate the variety.
Stay flexible. Is the weather not cooperating with your plans? Did the stores on your list not provide an outfit? I ended up buying a dress at Sears, a store not on my original list.
Afterward:
Rest and recover. Trips can be tiring. Allow yourself some downtime when you get home.
Clean up. Unpack, process your gear, and put everything away. That means finding a home for any new purchases.
Think back on the good times, and make note of what to improve. Would you use that entry point again? How was your timing? Did you eat and drink adequately? How were the campsites/stores?
How do you think a trip to the mall is like going on a wilderness expedition? Share in the comments below.