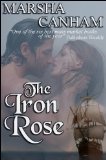 I was really bad yesterday. I spent the whole day reading Marsha Canham's The Iron Rose
, book two in the Pirate Wolf series. To make my transgression even worse, I had already read the book. I couldn't even claim that I just wanted to know what happened next.
So why did the Iron Rose have such a strong hold on me?
Because there is so much love.
The Iron Rose is not just a story about the heroine falling in love with her hero, but also of the love found in a family.
The Iron Rose is a sequel to Across A Moonlit Sea
. They are both romances, so of course have their Happily Ever After endings. Other than that, I will try not to give any spoilers. I wouldn't want to ruin the books for you because they are well worth a read.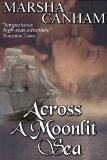 Across a Moonlit Sea tells the story of Isabeau Spence and Simon Dante. The Iron Rose tells the story of their 21-year-old daughter Juliet Dante. Juliet has two older brothers: Jonas and Gabriel. The Dantes are a family of pirates. Yes, yes, technically privateers, but pirates are so much more fun. Each captains their own ship, but they often hunt together.
The Dantes love each other. Beau and Simon are still madly in love after 25+ years and three children. They desperately love their children, and their children love them back. The siblings also love each other. True, it is the mischievous love that includes throwing each other off boats and other assorted pranks, such as tar and feathering. But they love each other.
Their love is shown in so many ways. Simon and Beau support their children in the decisions they make in their lives, and celebrate their accomplishments with them. Gabriel is Juliet's best friend and staunchest defender. When conflict inevitably arises, the family works through it, growing closer through their disagreement.
The family knows each other for who they really are, including their faults, but love each other anyway. Gabriel knows where to find Juliet when she is having a bad day, and takes the time to seek her out. Juliet and Gabriel know that their family has their back, which gives them strength and hope in trying and otherwise hopeless situations. Juliet's family recognizes her emotions before she identifies them herself. They know that she is too strong and stubborn to ask for help, so they offer it anyway, despite her displeasure. The Dantes read each other well enough to understand what happened without being told, and love each other enough to not pry for the details. They merely offer their support.
Don't you want to be part of a family like that?
You and I may not be pirates, but we all have a family, either the one we were born into or the one we created. What would you do for your family? Would you fight for them, die for them (the Dantes are pirates, after all)? What would you risk for them? What can you learn from the Dantes to apply to your own family?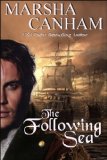 If you haven't gotten enough of the Dantes, Marsha Canham recently released the third book in the Pirate Wolf series, The Following Sea
. It picks up where the Iron Rose left off, and is Gabriel's story. I really need to show more restraint while I read that one! Look for my response to The Following Sea here, or on Facebook or Twitter.