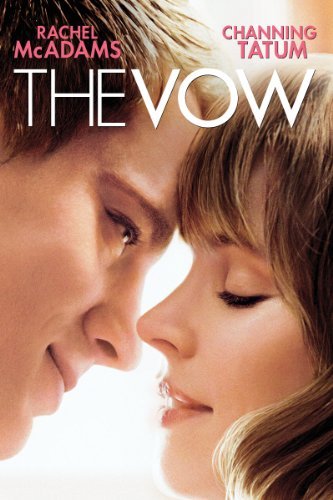 Being sick can be fun. When I am sick, I allow myself to do things I might not otherwise do, like watch silly TV or eat only a brownie for lunch. Unfortunately, this morning I got to take advantage of my sick rules. I woke up in such an allergic state I had hives, and my digestive track was thoroughly unhappy and making its displeasure known. I tried being productive, but it was a losing battle. Since sleep really wouldn't help the underlying problem, I turned to my trusty fallback, silly TV.
In this instance, I chose to watch the chick flick "The Vow,
" a 2012 film starring Channing Tatum and Rachel McAdams. "The Vow" is based off a true story of a husband who must re-win the love of his wife after a car accident erases all memories of their years together. I really enjoyed the movie. During the credits I was in tears. The movie touched me at so many different levels. 
WARNING: SPOILERS
In "The Vow", the wife wakes up from a coma and doesn't remember her husband. In fact, she can't remember anything from the past 5 years. Those were a pivotal 5 years. Instead of being the married, successful artist who is estranged from her family, her memories leave her as a family loving law student engaged to another man. The husband is crushed by this. This is not the woman he married. But he never stops loving her. He loves her with the most true love one can experience. He loves her for who she is at the present moment. He does not force her, or even expect her, to be what she was. He just wants her to be happy. He loves her so much that he signs divorce papers when she requests, since she feels she needs to figure out who she is on her own.
I am like the wife in several ways. Recent events, though not as traumatic as a car crash, have rewired my neural circuitry, changing who I am. This morning's symptoms were one manifestation of the change. Although my change is not as dramatic or as severe as in "The Vow", I am not the woman my husband married. I mourn the loss of my previous self, and often wish to recover to what I once was. But my husband loves me regardless. He doesn't ask for me to return to my former self, and allows me the leniency to deal with my current state. He loves me for who I am now.
I am grateful to be married to a man that loves me so much. My husband and the husband in "The Vow" demonstrate love to a very selfless level. Isn't that the kind of love we all want?
There are men out there who love that much. I have just mentioned two. Sadly for you singletons out there, those two are taken. But take heart, men that will love you for you, right now, are out there.
In "The Vow", the movie ends with the two of them walking away for a date, going to someplace they have never been before. Text at the start of the credits informs us that the real woman the story is based on never regained her memory. However, the couple married, and currently have two kids. They started from that moment, and built a new future based on the present, and not the past. The past was forever lost to her.
So too, in my own life, I need to let go of what I was, and build a future on today.
Do you have something from your past that you cling to despite it no longer being true? Share in the comments below how you plan to move forward.