This week, I took some spectacular falls. Each one made me smile.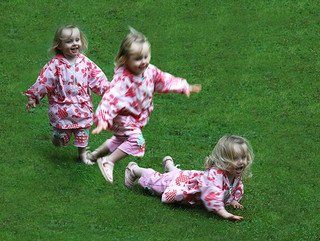 Why did falling down make me smile? Because I was brave enough to try.
I smiled when I skidded on my side across a concrete floor. I had been brave enough to try a new roller skating stop at full speed.
I smiled when I dropped six feet and bounced on my rope and safety harness three stories off the ground. I had been brave enough to try the next rock climbing move even though my arms screamed for rest.
Life is hard. Activities worth pursuing seldom come easily. If they did, everyone would be an attractive, fit person in a perfect relationship, not to mention a chess master, etc.
When pursuing a new or challenging task, to quote Mythbusters, failure is always an option. Depending on your pursuit, that failure might come in the form of a misunderstanding, a lost game, or physically falling down.
I am a firm believer in the adage:
If you're not falling, you're not trying.
Don't underestimate the power of trying. You have 0% chance of succeeding in your task if you don't try. Your odds improve immensely the moment you decide to try.
But be ready to fall. Have a safety net already in place. I skidded across the concrete floor on knee pads, elbow pads, wrist guards, and padded shorts. I fell through the air connected to a rope that safely caught my fall. Anticipate the possible consequences of failure, and take steps in advance to reduce the impact.
You will fall. That's OK.
Failure is the first step to success. When you start any new activity or pursuit, or when you wish to improve on a current activity:
At first:
Take all necessary safety precautions
Try – give it your all
Fall down
Get up
Learn from the experience. Why did you fall? What would you do differently next time?
Repeat until…
Eventually:
Take all necessary safety precautions
Try – give it your all
Do
Celebrate. Yay! You rock!
So go ahead, double check your safety net, and give it your all. If you happen to fall, great job for being brave enough to try. What did you learn? Share in the comments below.
*Photo credit: The 5th Ape (Flickr Creative Commons License)