Spring is a time of pure primal joy.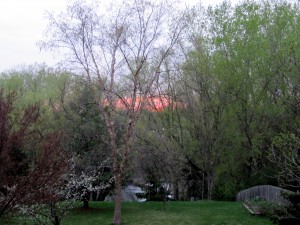 I can't help but feel the energy of everything coming back to life after a long winter slumber. It courses through the very center of my being and makes me want to skip along with my arms outflung, face and chest presented joyfully to the sky.
Even the rains are part of the joy. Have you been outside during a spring rain? The light rains that caress your skin as they caress the plants? Here is what you need to live. Drink up, and flourish.
I once had the honor of being in the midst of the Appalachian canopy during a spring rain. I was on a high ropes course that traveled from tree to tree. Each tree served as a bastion of safety after a physically and mentally challenging traverse across the gap. The person going through the course before me was really struggling. She needed to take considerable time both psyching herself up to attempt each challenge, and then more time completing each obstacle.
As a result, I had much time to just observe the newly awakened forest, and the dance of the rain, from a vantage point typically only enjoyed by the birds and squirrels. Spring had worked its magic. The trees carried miniature lime green leaves. Tiny towers that would soon be flowering plants poked through the debris on the forest floor. The moist smell of dirt and worms permeated the air. Rain drops struck each object as a mallet hits a drum, creating a soft song of pitter, patter, splat. Drops of water fell unto my face and shoulders from above, both from the clouds and the trees. I was part of the forest, and part of the rain, in a way that I had never before experienced. I was fully immersed in the lushness of life.
Enjoy your spring rains. What do you like about spring?