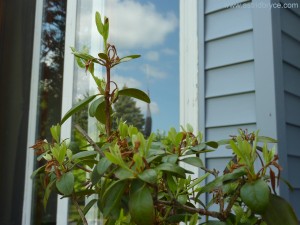 I am inspired by a bush, a rhododendron bush to be exact. This bush has gone through a lot in the last few years. But it always seems to come back healthier than ever.
Two years ago the bush was trimmed back to only 25% of its stalks. You see, we re-sided our house after storm damage, and the work crew trimmed all the shrubbery around the house so they would have room to work. Since this bush had house on two sides, it suffered a larger blow than the rest of the greenery. When I saw how extensively the workers had trimmed the rhododendron, I feared for the shrub's survival.
My fears were unfounded. The rhododendron survived the rest of the re-siding summer with its remaining few leaves. The next spring, the two remaining stalks sprouted leaves more densely than I had ever seen. The leaves were so dense that the bush had as many leaves on its two stalks as it had before the excessive pruning. The rhododendron was thriving.
This spring, the weather played a cruel joke on fragile flowering plants. Temperatures in March were unseasonably warm, running 30 degrees higher than average. For Minneapolis, that means that we were seeing lows of 57 instead of 27. In fact, our low temperatures were higher than the average March high temperature starting on March 13th. The last time the temperature dipped below freezing was March 9th.
The plants thought it was spring. Tulips bloomed. Apple trees blossomed. Cherry trees peaked. My rhododendron bloomed and started growing new leaves. All weeks ahead of schedule.
But winter was not yet done. On April 10th and 11th, the overnight lows dropped to 28 degrees. New, fragile plant parts could not handle the sub-freezing temperatures. Tulips folded in half. Apple trees lost their blossoms. My rhododendron shed its flowers. Even worse, the new lime-green leaves withered and turned brown. The new spring growth did not survive.
Friday, I was sitting drinking my morning coffee when I looked at the rhododendron. What I saw elated me. The rhododendron had sprouted new leaves where the withered brown ones were. The new leaves grow happily, reaching toward the sky like a phoenix rising from the ashes. This spring, the rhododendron will have new growth.
My rhododendron has stayed resilient through multiple beatings. True, its comebacks were not instantaneous, but they occurred. How are you like this rhododendron? What past insult(s) have you suffered from which you still need to sprout new life? Share your story in the comments below.