If I had to pick one word to describe my first downhill ski day of the season, I would pick "bumpy."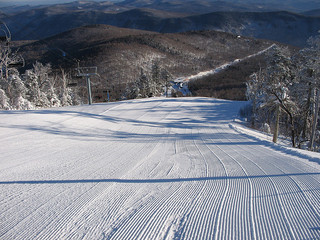 Perfectly groomed corduroy greeted me, even though I arrived midday. The frozen grooves in the snow had withstood earlier skiers without breaking down one bit.
You see, the temperatures had roller-coastered throughout the week. The day before had been 40 degrees and rainy. The day we skied, thermometers said 14 degrees with wind chills hovering around zero. I could only presume that the slopes had been groomed while the temperatures were above freezing, and then the snow had frozen solid in its bumpy pattern.
Snowboarding back and forth across such patterns reminded me of riding my bike down freshly graded roads as a child. Back then, the washboard surface shook my arms until I thought they would fall off. Similarly, the frozen snow vibrated my entire body.
I tried to absorb as much of the bumps as I could through my bent knees.
"Bend your knees!"
It's a commonly heard phrase in many activities, from snowboarding, downhill skiing, cross-country skiing, roller skating, and others. Our knees act as the shocks in a car, absorbing the unexpected bumps so our overall ride or balance is not affected.
How do we handle the unexpected bumps in life?
One way is to prepare physically. Some people have an "oh shit" savings account. Others have emergency food, water, and flashlights. Stores have backrooms with extra inventory.
But we need to prepare mentally, too. In sports, we bend our knees because we know that we will hit bumps and snags we haven't expressly anticipated.
The same is true of life. Problems will arise. Objects will break. The weather is bound to not cooperate with your plans. Miscommunication will happen.
Bend your mental knees. Keep a positive attitude while staying flexible. Whatever your current problem is, it's not the end of the world. There is a way to deal with it, and life will move on. Yes, you might be a bit late, or you might have to change your plans. Is that really so bad?
No road in life is smooth. Go ahead, bend your knees.
How do you handle the unexpected in life? Share in the comments below.
*Photo Credit: Derek Purdy (Flickr Creative Commons)