I had my Florida Keys trip planned out perfectly. We were going to dive the three largest wrecks in the Keys: the Vandenberg, the Spiegel Grove, and the Duane. I really looked forward to our planned trip.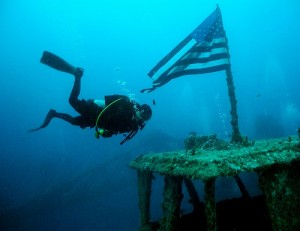 Unfortunately, the weather did not cooperate with my plans.
Our plans derailed on our first day in the Keys. We timed our drive down to Key West so that we could catch the sunset from Mallory Square. Unfortunately, clouds obscured the sky that night, blotting out Key West's famous sunset.
Our purpose in Key West was to dive the Vandenberg. Shortly after the anti-climatic sunset, the dive shop called to cancel our next morning's dive to the wreck. The forecast featured a small craft advisory with high winds and 6 to 8 foot waves. No dive boats would go out in the morning.
So we enjoyed the rest of what Key West had to offer. Because our plans had been cancelled, we were able to see the land based attractions of Key West.
We started by sleeping in. When we had slept our fill, we found a magical breakfast spot aptly named, "Blue Heaven" (pictured below). With our tummies stuffed, we wandered down Duval Street to the Southernmost point of the continental United States (pictured below).
All of that occurred because our plans had been cancelled.
The wind and waves stayed strong the following day, cancelling our Duane dive in Key Largo. By this point, I had to remind myself of my own words in a recent blog post: to keep a positive attitude while staying flexible.
Instead of diving that day, we drove down to Curry Hammock State Park. After checking out their postcard worthy beach (pictured below), we hiked a trail through what felt like jungle (pictured below). Happily, this jungle lacked snakes.
On our way back to Key Largo, we stopped in Islamorada at a seaside restaurant. We watched a magnificent sunset from our table on the beach under the lighted palm trees (pictured below). Music floated through the air from a live band by the tiki bar.
Those activities would not have occurred if the day had gone as planned.
Although we did not get to see the Vandenberg or the Duane this trip, we did get to dive the Spiegel grove and several reefs. But honestly, the best memories of the trip came from the days that did not go according to plan.
Our plans can be derailed by many factors outside our control. When that happens, remember, there is still beauty and enjoyment to be found. It's there. You just need to look for it.
When have things gone better than planned for you? Share in the comments below.
*Photo Credit for Top Photo: Ron Scharf (corvettediver on Flickr), Creative Commons License