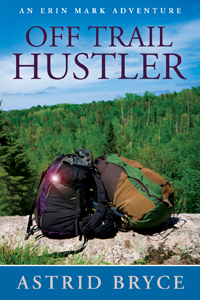 Erin wanted an adventure, but she never anticipated this…
At her convalescing aunt's suggestion, Erin escapes her caretaker and business executive duties for a weekend adventure in northern Minnesota. With her last backpacking trip nearly two decades past, she joins a group hiking the remote Sioux-Hustler Trail. Returning to a place of fond childhood memories opens wounds, wounds long thought buried with her dead mother.
Erin distracts herself by enjoying the beauty of the trail, seducing her handsome trip mate Finn, and humoring the eccentric trip leader, until the leader disappears. With no map of the perilous Sioux-Hustler Trail, Erin's independent and impetuous nature can only lead to further trouble. Erin must move beyond her emotional scars and trust Finn in order to survive.
Available now!  Retail price: $2.99
Sold exclusively on Amazon. Please let me know if that does not work for you.