Life is stressful. Busy, and stressful. Wouldn't it be nice to recharge with a vacation? How about a 24 hour vacation?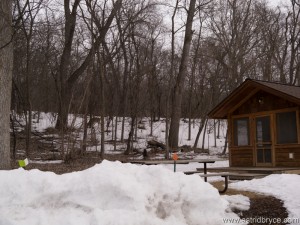 I'm a big fan of 24 hour vacations. My husband and I often take 24 hour trips. We return home more connected to each other, more relaxed, and more prepared to tackle daily life.
Last weekend, we went to Flandrau State Park in New Ulm, Minnesota. We fit this trip into our schedule, leaving Friday after work and returning on Saturday in time to use our tickets to the evening's roller derby bout.
Despite its short nature, or maybe because of it, I describe the trip as heavenly.
The two hour drive to New Ulm followed the Minnesota River Valley from the deciduous forests of the Twin Cities to the flat prairies of our country's interior. I hadn't been to that part of the state before. The geological transformation fascinated me.
We arrived in New Ulm hungry for dinner. Being in small town Minnesota, we had low expectations for dinner options, maybe a Subway or a Wendy's. Instead, we stumbled upon a hidden gem.
At the historic Grand Hotel, we sipped locally brewed Schell's beer while listening to the live music of the Grand Kabaret. We enjoyed the mellow sounds and elegant surroundings.
After the first set of music, we left to check-in to our cabin. We were the only ones in the park. It was our own private playground.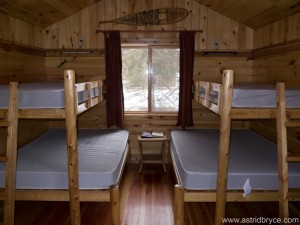 Our cabin, Coffeetree Retreat, was as cozy as its name implied. I had worried the small cabin might not have sufficient heat to keep up with a Minnesota winter. The heat proved more than adequate. Even though it was 20 degrees outside, we cracked the windows while we slept.
We had a lazy morning. We slept in, then sat at the cabin's table sipping coffee and listening to the birds sing their spring songs. There was nothing else that needed to be done. We could truly relax.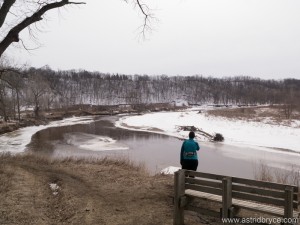 After breakfast, we hiked all the winter hiking trails open in the small park. Our picturesque outing of four miles followed the course of the river. Flowing water tinkled around ice islands. We turned around beneath the tower of the Schell's brewery.
Returning to our cabin, three deer greeted us. They grazed, unconcerned, a stone's throw from us and the cabin door. We watched them. They watched us. They ate. Eventually, they wandered away.
We packed up and headed home. Our brief escape did me a world of good.
Why don't you take a 24 hour vacation? Why not? What's holding you back?
Kids? Try arranging for the kids to spend a night at a friend's house. It could be a treat for the whole family. If you have kids younger than school aged, why not find other parents with kids of a similar age and agree to swap overnights? You take their kids for one night in return for them watching yours for a night.
Work? Realize that you need to unplug in order to avoid burn out. They can live without you for 24 hours.
Finances? Your get away doesn't have to be extravagant. Try a cheap motel near someplace fun. Camp. Stay at a friend's cabin. Use your creativity to come up with options.
Too busy?  That's the joy of a 24 hour vacation; it fits in the busiest of schedules. If you can't squeeze in 24 hours for your personal health and happiness, you may want to rethink your priorities.
You can find a way to get away for 24 hours.
Once you try a 24 hour vacation, you'll wonder why you didn't go earlier. Where will you go? Share in the comments below.