It's April. We're well into spring. It's snowing. And we already have several inches of white stuff on the ground. Why won't the weather cooperate?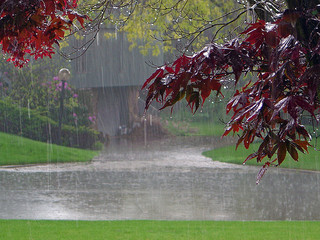 Last April, we played outside in short sleeves. The world had turned the green of spring, with new life visible everywhere.
Yes, last year was freakishly warm, and ultimately bad for the plants, but it sure felt nice.
This is a hard time of year to make outdoor plans. We never know if it is going to be 70 and sunny, 20 and snowing, or the worst: 30 and raining.
This weekend, the forecast predicts temperatures in the 30's with mixed types of precipitation. This is the weekend for the annual spring Cub Scout camp out. No, they are not canceling.
The organizer, my friend, is an avid winter camper. He's even camped in the backyard with his two boys, then 4 and 7. Why would he cancel a spring trip? After all, Cub Scout regulations require they have a building for shelter with kids that young.
This time of year, we itch for the sun, warmth, and green of spring. When the weather fails to provide a perfect spring, we tend to hunker down in our homes, bemoaning the long winter.
Why? Get out there.
No matter the weather, these are some of the most magical moments of the year.
When else do you get to enjoy thunder snow? When do you hear seagulls cry in a world covered in snow? When do you see a trio of unhappy ducks huddling next to their frozen-over pond?
Now.
So get out there. Here are some tips:
Have a back-up plan. My friend winter camped with the kids in the back yard. This weekend's Cub Scout camp has a building. How will you stay warm and occupied?
Scale the outing appropriately. Be realistic. Hiking two miles in the snow or slip-sliding on mud is a much different experience than dry, firm trails.
Be prepared with layers. What would you wear if it is 70 and sunny? 20 and snowing? 30 and raining? Do you need items that breathe because you'll be active, or do you need to trap all available heat while sedentary?
Don't worry about bringing too much stuff. This is not a time to pack light if you want to ensure comfort. Yes, I know the ultra-lighters out there embrace minimalism and tough it out. But that's not fun for the majority of the world, including myself. This time of year, I use a huge duffle bag and throw in a wide range of clothing options.
Prioritize the reasons you're out there. What do you want to see? What do you want to do? What do you benefit the most from outside? Make sure to do that, and let other things go.
Be prepared for clean up. Yes, mud is messy. That's what clothes washers are for. You may need to rinse off with a hose or in a sink first. If so, go you for embracing the mud.
Stay flexible. It's OK to car camp if you normally backpack, stay in a cabin if you normally camp, or even stay at a motel or B&B. The point is to be outside during part of the day.
The weather is wonderful, whatever it is. Don't let it be an excuse to stay inside. Don't let it stop you from enjoying nature. Walk around the neighborhood. Go to a local park. Any nature is good nature.
This is a fascinating time of year to be outside. How will you experience it? Share in the comments below.
*Photo Credit: laffy4k on Flickr, Creative Commons license