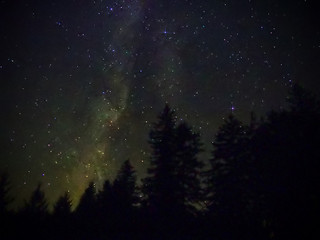 My novel, Lost And In Touch (Erin Mark Adventures), went out to beta readers last week. As a celebration, here's an excerpt.
Erin and Finn spent a long day backpacking the Sioux-Hustler trail in the Boundary Waters Canoe Area Wilderness. Of course, things didn't necessarily go as planned. But now, they are at camp. They ate dinner, and are almost ready to turn in for the night when this scene starts.
—-
"Erin?" Finn's voice behind her brought her back to the present.
"Hmm?" Raw with emotion and fatigue, she didn't trust herself to speak.
"May I join you?" She sensed a tentativeness to his question.
"Sure."
He clicked off his headlamp and stood next to her in the dark. She could feel his heat on this chilly night. On any other night, she would have snuggled up against him, using the cold as her excuse. Tonight was different. Instead of seducing him, like she normally would, she didn't trust herself to not break down in tears in his arms. So, she stood still.
Without the artificial brightness of his headlamp, her eyes gradually adjusted to the dark.
"I love how the lake is so calm, it reflects the stars."
The wonder in his voice caused her to really look around at her surroundings. The thick clouds from earlier had dispersed. Dense stars had taken their place. Out here, the phrase, "As numerous as the stars" actually had meaning. The white swath of the Milky Way arched across the sky. A crescent moon overhead provided a surprising amount of brilliance. The still surface of the lake reflected the full glory of the night sky. With no wind, a peaceful quietness soothed her.
"Look, there."
She followed the line of his extended arm off to the right. Across the water, a large dark mass obscured the otherwise even line of the far shore. As she watched, a head adorned with massive antlers lifted up from where it had been bent down to the water. A great hump interrupted the smooth line of the creature's back. A moose.
The moose stood still, as if waiting for a scent or a sound. Nonchalantly, the animal turned and disappeared back into the woods. It had been years since she had seen the elegant animal.
Her breath escaped in a small sigh.
"It was a long day, wasn't it?" Kindness filled Finn's words. With that simple statement, he acknowledged everything that had happened, without judging.
It had happened. It was done.
"Yes, it was." She hoped her statement conveyed as much as his.
A tenseness she hadn't realized she'd been carrying evaporated from across her shoulders and neck. She relaxed into the night, with his presence undemanding beside her.
"Listen." She barely heard his strained whisper.
Small noises came from behind them. Soft scampers, scrapes, and crackles displaced the former stillness. At the unmistakable sound of a zipper, she and Finn turned as one toward the benches. Two sets of glowing eyes greeted them at their packs.
—
If you wish to receive further news of the book's release, please sign up for Astrid's Newsletter on the right, or sign up here for the same newsletter.
*Photo credit: Nicholas A. Tonelli (Flickr Creative Commons)