I know many of you already have flowers in bloom. I am a bit envious. I went for a walk today in search of growing things awakened by spring. I didn't find any. I guess I will have to be patient here in the North. The best I have are these pictures I took of a potted Mini Daff at the peak of bloom. 
The mini daff was a gift from my husband. He knows that I don't like cut flowers. They may be pretty, but they are dead, and their beauty fades so quickly. I prefer not to spend money on such things.
But the mini daff was different. When he brought it home, the bulbs had grown their green shoots. Some tips swelled, pregnant with unbloomed beauty. As time passed, the plant grew ever more lovely. In this never-ending winter, I appreciated the reminder of potential, growth, and spring. All this for only $4.99, much less than some cut flowers. I thought it was worth it.
In these pictures, you can see how I am still playing with photography, and learning to use our fancy-pants camera. They're not the best example of depth of field, but I had fun taking them.
Near the end of my photo session, our cat came to explore. Her presence helps demonstrate the scale of the mini daffs: they really are mini.
Click on a picture to see them full sized, or view a slideshow.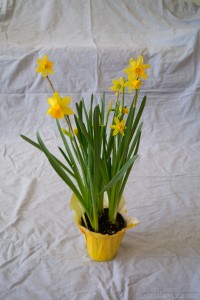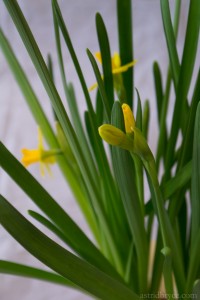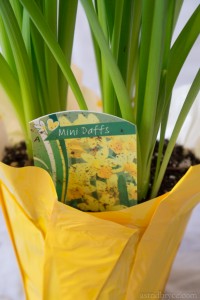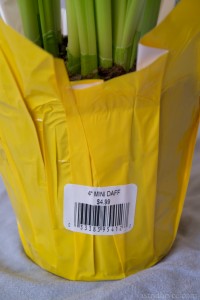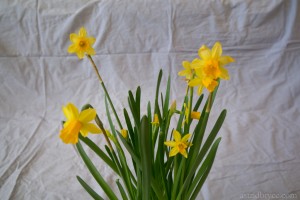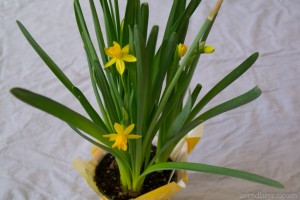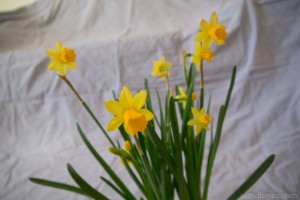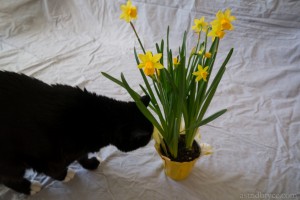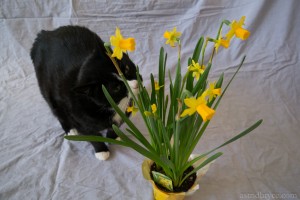 Happy Spring! May you have blossoms of new life in your life.