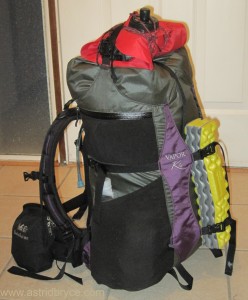 I did it. I fit that huge pile of camping gear into my small, ultralight backpack. OK, technically it is not all inside the bag, but at least it is firmly attached in a manner safe to both myself and the gear.
Even more awesome, the entire pack only weighs 30 lbs. Exactly 30 lbs. Yes, I know that is the weight limit of the bag and its suspension system. And I know that my goal was less than 30 lbs. But I am quite happy with my 30 lb bag.
To put that in perspective, last time I did this trip, my husband and I started experimenting with lightweight backpacking. At that time, I was happy to fit my 42 lbs of gear into a backpack with 4,500 cubic inches of space that weighed 6 lbs 2 oz all by itself. Then, too, not everything was inside the pack. I still had the tent attached to the bottom.
We have since learned more about lightweight backpacking. We have bought different gear and changed how we do things. Now, the 30 lb pack I am so proud of only holds 3,300 cubic inches and weighs only 2 lbs when empty. I reduced my overall load 29% by weight, 27% by volume. Not too bad.
I am even carrying my share of group gear. I have the cookset with pot, bowls, mugs, spoons, stove, fuel, and re-hydration cozies. I have the water filter and the dromedary bag (the red lump on top). I have the lantern. I have the main body of the tent. That leaves the tent rainfly and poles, food, spices, spare ziplock bags, first aid kit, and tiny camera tripod for my husband. Seems fair to me.
He, he. I am excited for the trip tomorrow. I am ready for the 40% chance of snow and rain. Now, I only hope my knee holds up…
What recent accomplishment are you proud of? Share your awesomeness in the comments below.