We are in a day and age of incredible possibility. All of the old, ordinary options still exist, but the internet has opened up so many new alternatives. Given the plethora of choices, there's no excuse to settle for something that doesn't make you happy.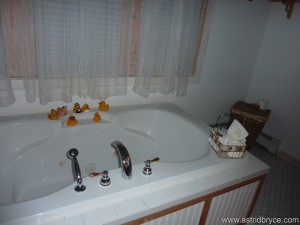 Take travel, for instance.
Traditionally, non-camping travelers stayed at hotels or motels. Personally, I'm not a huge fan of hotels. They seem large and impersonal to me, with little local flavor. Staying at one Holiday Inn is much like staying at any other.
Today, I leave for my second consecutive trip where I skipped hotels in favor of a more unique option.
In Key Largo, Florida, I had the great pleasure of staying on a houseboat. Even though we weren't allowed to move the houseboat from the dock, we could still appreciate life on the water. The motion of the waves, sea life splashing nearby, beautiful sunsets and sunrises. We found our watery retreat on Airbnb.
Today, I head up to the "Duluth Doll House"  in Duluth, Minnesota. The Hillside Cottage offers a rate comparable to many of the local hotels, but offers 3 bedrooms, a gourmet kitchen, a reading room with a gas fireplace, and a TV room hooked up to Netflix, Hulu Plus, Amazon and other streaming services.
Did I mention this house had character? Every place you look small knick-knacks greet you. One of my favorites is all the rubber duckies lined up along the two-person hot tub (pictured above).
Yes, it takes a little bit of work to find these more personalized options, but I have much fonder memories of these places than of a hotel chain. I'm glad I did not take the easy way out. The houseboat and the cottage make me smile.
Travel is not the only sphere where the internet has opened up worlds of opportunities. Shopping, reading, education, and even employment have changed because of the availability of information and instant communication to distant places.
Using that information or communication may not yet be completely normal. However, just like my alternative accommodations, the possibilities are worth pursuing. Don't worry: they aren't that much more work than the traditional, expected route.
When did you buck the norm to do something that made you happy? Share in the comments below?