I'm a person of action. I like to move and do. I don't like to sit still. I certainly don't like to wait. Given all that, it comes as no surprise that patience comes hard to me.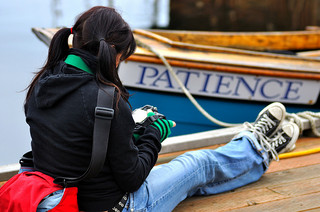 This time of year, I especially struggle with patience. I want to play outside in the longer spring days, but snow still covers the ground. The snow's deteriorated beyond cross-country skiing, and I'm not very good at biking or camping in the snow.
Last weekend, my impatience boiled inside of me. Frustration ate at my innards. I had a bad case of cabin fever combined with nature deficit disorder.
So I decided to be proactive. That same day, I searched the State Parks for an open camper cabin for this Friday night. I reserved the closest one. Now, I have an outdoors trip on the books.
I'm excited about this trip. Minnesota's State Park camper cabins amaze me. They are one room buildings with beds. Most have heat and electricity, good for cold, dark nights. The heated cabins are available year round. You might have something like this available by you.
My impatience manifested itself in another way last weekend. I noticed at roller derby practice that yet another person I skate with had been moved up to a more advanced group.
I had attempted to advance back in January, and been denied. Since then, I've been working extra hard because I desperately want to play real derby. Seeing my skater friends advance one by one without me frustrated me to the point of anger.
But I took a positive, proactive approach. I went to my trainers and asked for feedback on what specifically was holding me back.
We had a great conversation. My trainer acknowledged the progress I'd made on the items that held me back in January, and shared the 2 remaining concerns she had. She also gave me exercises to help strengthen me in those areas.
Wow, that was helpful. I went from churning anger to a concrete plan. Not too bad.
I'm always happier when I approach patience proactively. These are the steps I follow:
Appreciate how far you've come. A year ago, I taped my left knee daily. I struggled with stairs and could not use my left leg while rock climbing. I was unable to run. Now, I run 3 miles three times a week, and I'm working on one legged squats with each leg.
What can you do NOW to alleviate your unrest?  I remembered the heated State Park cabins and decided to ask specifically what was holding me back.
Do it! I reserved a cabin for less than a week away. I pushed aside my shyness and asked my trainers for their feedback. If you noticed, "Just do it" seems to be a theme around here. That's why I named my plastic chicken Nike.
Appreciate the moment. Celebrate the journey. There is beauty around you, right now.
Keep working. The only way to accomplish your desire is to keep making progress. One day, I will pass the derby skills test and be allowed to play full out derby. The snow will eventually melt, so I need to keep planning my upcoming trips.
How are you struggling with patience? What will you do to be proactive? Share in the comments below.
*Photo credit: Will Merydith, creative commons license