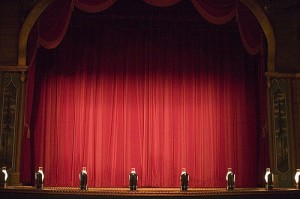 Have you ever done something that was way harder than you expected?
Back when my husband and I were still dating, we took a trip to the Boundary Waters Canoe Area Wilderness. Unlike the other Boundary Waters trips we'd taken, this one was just the two of us. It was our own private outing.
The route we picked looked easy enough with only four short portages. However, it turned out to be the most challenging Boundary Waters route I have ever taken. It was hard. We both had decidedly less fun than we expected.
This past summer, eight years later, we covered the same route as part of a group trip. We planned this trip as a challenging trip. We warned everyone about our previous problems, and told them the portages sucked.
Coming in with that mindset, the trip wasn't so bad. Everyone handled the known hurdles, as well as some new ones, with a reasonable attitude. I was even pleasantly surprised it wasn't harder. But everyone agreed that it would have been a different experience if they hadn't been warned how hard it was.
Interesting how our expectations can change our emotional reaction to a situation.
"There were two ways to be happy: improve your reality, or lower your expectations" ― Jodi Picoult
This blog post is late. I'm sorry it was not ready for your enjoyment first thing Monday morning. I set up the expectation that my blog post would be there, and it was not.
I agonized over letting you down. Life had gotten in the way, but there was an expectation to meet. I had to meet it, didn't I?
Actually, no. I had promised a timely post, but people understand when life gets in the way. Overall, it was better that this post was late. I was happier and healthier, and you got a quality final product.
Do you have expectations of upcoming events? Do you have promises that you feel you must meet?
Remember, the point is to be happy, no matter the pathway there. Maybe it's time to scale back your expectations, or renegotiate those promises. In the end, everyone will benefit. Share your new plan in the comments below.
P.S. I promise not to make late posts a habit. I took this past week as a lesson in time management.
*Photo Credit: dcJohn on Flickr (Creative Commons License)