Spring has come late this year. Here in the north, lakes still have almost two feet of ice for fishing opener weekend.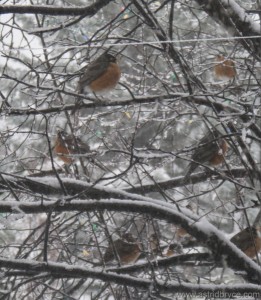 Meteorologists say that our atmosphere is about a month behind its normal warming trend. That explains the cold, wet, March-like weather in the middle of April.
But the sun stays rigidly on schedule. The days have lengthened, signaling spring to many plants and animals. Bunnies have begun their mating contests (bunny fights!). Birds have begun to migrate.
Including the robins.
Yesterday evening, a flock of robins, more precisely called a round of robins, descended on my house. They landed in the trees. Smaller trees contained almost two dozen robins. More than three dozen perched in the larger trees.
Yesterday evening, a winter storm pelted us with six inches of snow and ice. White covered everything: the ground, the bushes, and the trees. The round of robins rested in the trees, puffed up as protection against the cold and snow.
Despite the weather, the robins knew it was spring. They acted on that knowledge, and came back from their winter homes in the south.
The robins have confidence spring will come.
The robins have hope.
They know that, regardless of the harsh conditions they currently face, life will get better. The snow and ice surrounding them can't continue indefinitely. There must be an end to the cold of winter, and a return to the pleasant warmth of spring.
In the meantime, they will do what they must to get through.
The normally anti-social birds came together, sitting closer than I have ever seen robins do. They puffed up to trap as much of their own warmth as possible, and shared with their neighbor the heat that escaped. They ate the berries and seed they could find.
The robins inspire me.
The robins remind me of the temporariness of our problems. Nothing lasts forever. So why behave as if it does? True, we must do what we need to do to get through the time of difficulty. But, like the robins, we can do so with a song in our soul.
That way, when the moment of crisis is over, we can respond like the robins, and sing.
What are you facing right now that seems never-ending and insurmountable? What can you do to keep your song alive in your heart? Share in the comments below.