This morning, I have a surprising amount of energy. Last night, I woke up at 1:30am and stood outside in 23°F temps for almost two and a half hours. I would do it again in a heartbeat to catch the full lunar eclipse, described by experts as the most special lunar event of our lives.
Last night, North America witnessed the first of four consecutive total lunar eclipses between now and September 2015. No, the tetrad does not mark the end of the world, even though the moon can appear blood red at time of full eclipse. That is, if we are lucky enough to have the correct conditions.
Last night, a blood moon did appear, flanked by the bright blue star Spica and the red planet Mars. Extraordinarily, last night also marked the closest approach of Mars to Earth since 2008. Hence, the extra special nature of the night.
I set up our fancy camera on its tripod, this time in advance, and tried to capture the event. Below are some raw, untouched and unprocessed images from last night. I'll post a second round of images later.
Although I learned much taking these pictures, after looking at other people's pictures, I know I have a great amount yet to learn. A decent telephoto lens wouldn't hurt, either.
The pictures are in chronological order. Click on an image to see it larger, or to view a slideshow.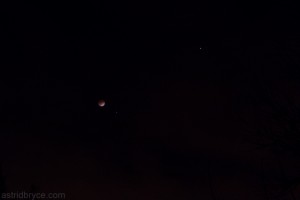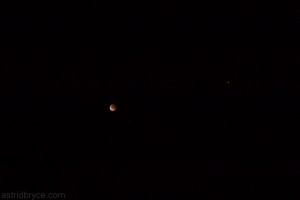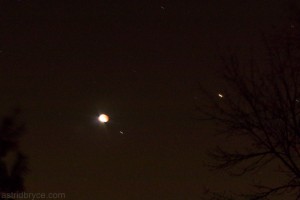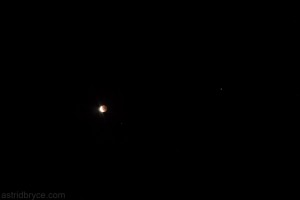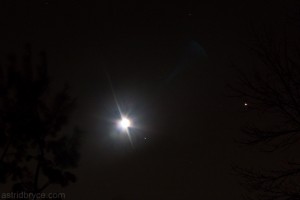 My 1:30am alarm last night was well worth it. Don't worry. If you missed this lunar eclipse, the next is October 8, 2014.