Do you want to become stronger? Do you want to be able to run three miles? Do you want to comfortably backpack 5-10 miles a day while carrying a 30+ pound pack? Do you want to be able to do a proper pushup? Do you have some other athletic goal?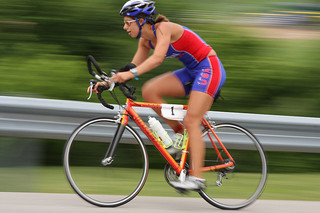 Strength isn't just physical. You can increase your mental and emotional strength, too. Do you want to be a more patient person? Do you want to improve your self control? Do you want to be a happier person?
Each of us has areas in which we could become stronger. The secret is to follow the following steps:
Set a goal.
Goals are great motivators. The best goals are SMART: Specific, Measurable, Attainable, Results-based, and Timely.  For example, I want to learn how to roller skate well enough to play roller derby before summer. That means that I need to be able to pass the Women's Flat Track Derby Association skills test by summer. That is a specific list of skills I need to learn. The test is measured by a pass/fail on each skill. I believe I can learn those skills in my given time frame, making it attainable. Passing the test makes it results-based, and I gave myself until summer to achieve this goal.
Break it down.
What are the specific steps to achieve your goal? Are there less challenging versions that build you to your ultimate goal? Are there different tasks you can focus on one at a time? In order for me to learn how to roller skate, the first step is to become comfortable stopping, turning, and maneuvering on my own. The next step is to be able to do those same skills around others. Finally, I need to be able to interact with others while focusing on strategy.
Slow and steady.
Make continual progress. It doesn't matter how slowly you improve, as long as you put in the consistent effort. That will increase your strength over time. I roller skate each week for at least two hours. I can now stop, and have improved my turning ability.
Celebrate small victories.
Celebrating the small victories helps keep you motivated. You are making progress toward your goal. You are awesome. Last week I was ecstatic that I had increased my roller skating strength to the point where I could go running the day after skating instead of having to rest. I did a happy dance.
Stay flexible.
Life happens. Things that we have no control over occur. All you can do is your best. Yes, your goal is timely. You need that timeframe to stay focused. But don't beat yourself up if you don't hit your goal at exactly that day. If you did your best and made progress, you are a success. Just define a new SMART goal.
How do you wish to become stronger? What is your plan to do so? Share in the comments below.
*Photo credit: Rob Annis (indywriter on Flickr), Creative Commons Licensce