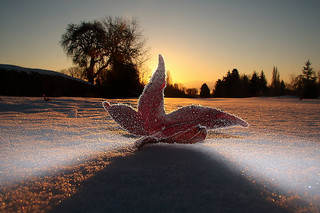 During college, I ran outside all winter long. Ann Arbor, Michigan has a respectable winter, with cold and snow. And I still ran. I stayed plenty warm.
The only problem was that I had a tendency to cough for hours afterward. My lungs didn't seem to like the cold air.
That was my excuse to stop running outside in the winter when I moved to Minnesota, where the winters are more severe.
I would run outside all spring, summer, and early fall. Come winter, I said I would run inside. However, I don't really like treadmills. So I would stop running in the winter.
Come spring, I would have to start from scratch with my running strength and endurance. I've done the Couch Potato to 5K program at least half a dozen times.
This winter I decided to follow my own advice. I would put on more clothes and run outside.
Well, why not? I cross country ski in sub-zero temperatures. How was running any different? Memories of me hacking up a lung in college begged to differ.
In compromise, I decided that this winter I would run outside so long as 1) footing remains safe and 2) I don't hack up a lung from the cold air.
This morning, it was 17 degrees Fahrenheit. That's 15 degrees colder than my last run, and the coldest I have attempted to run outside since college. I added an extra long underwear top, switched to heavier gloves, and went for my run.
It was beautiful. The sun had just cleared the horizon. It peeked through the trees and around the houses. It lit up the tree tops like a golden halo against a baby blue sky. White frost coated everything: the ground, roofs, unraked piles of leaves. Where the sun hit the frost, it sparkled like thousands of tiny diamonds. Overhead, great V's of geese passed by.
So, what is this simple plan to expand your comfort zone that my title speaks of? It is quite simple, really.
Try. What's the worst that can happen? You can always stop and cut the experience short. If the experience is not to your liking, then you don't have to do it again.
Who knows, you might be surprised by how easy, how enjoyable, or how beautiful the experience is. I certainly enjoyed my run this morning, and I did not cough afterwards. My run was a rewarding experience that I will gladly repeat as the temperatures stay cold.
How are you going to expand your comfort zone? What new twist to life are you going to try? Share in the comments below.
*Photo Credit: Ryan Blyth (Ryan S B on Flickr), Creative Commons License