We just had a holiday weekend. Did yours go something like this: heavy traffic out of town (stress), packed destination, lines and long waits (stress), crowds, and a traffic jam on the way home (stress)?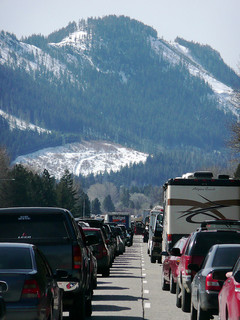 I've experienced many holiday weekends where everyone in town tries to go out of town. And it feels like they're all going where you planned to go.
That's why my husband and I don't plan trips over holiday weekends. For us, it's not worth it.
On holiday weekends, we plan fun things around town.
On Saturday, we ran a 5K, the first in the MN Brewery Running Series. This series starts at a different local brewery for each of the five beer runs.
The organizers describe each event as an "Un-Race".
We received no T-shirt, no number, no timing chip, no finisher's medal, not even a closed course. At intersections, we had fun playing chicken with traffic. Would the cars stop for a handful of people? Sometimes yes, sometimes no.
What we did get was a very low key, fun experience. Although a morning run, it began not so promptly at 11:00am. Brueggers Bagels provided free bagels and coffee before the race. During the run, I've never chatted with as many fellow runners. After the run, we received a free beer and glass. My husband and I decided to stay and purchase lunch, too.
On Sunday, we went on our first bike ride of the season. We chose our route based on the eating and drinking establishment at which we wished to end. From there, we picked a route through the fantastically bike friendly areas of the Twin Cities. For the majority of our 18 mile route, we had our own designated bike lane. When we did not, frequent signs reminded cars to share the road.
We biked past the Governor's mansion, along the Mississippi River, through the University of Minnesota, around the State Fair grounds, by the State Capitol, and past the Cathedral. At the end, we locked up our bikes and enjoyed an early dinner.
We had a fantastic weekend, with minimal stress.
We enjoyed ourselves despite the weather. The unofficial start of summer was anything but. Cold winds blew the on-and-off rain from an overcast sky. Temperatures hovered in the mid-50s. Wind speeds ranged between 15 and 20 mph, gusting well beyond 30 mph.
But we dressed appropriately, and didn't let the weather stop us. We enjoyed our town, even its consistently inappropriate weather.
We had a stress free, cozy in the cold rain, holiday weekend at home. How about you? If your weekend had more stress than you would have liked, what would you do differently? Share in the comments below.
*Photo credit: Chuck Taylor, Flickr Creative Commons