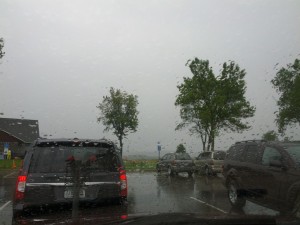 I competed in an early season triathlon on Sunday. Guess what the winner did immediately after crossing the finish line? He lit up the grill to cook hot dogs for the rest of us.
Wow. What a guy.
The warm, free food sure was nice. You see, the weather didn't quite cooperate for the race. Steady rain and 20 mph winds exacerbated the already lower than average 58 degree temperatures.
Conditions had deteriorated enough to change the triathlon of swim, bike, run, to a duathlon of run, bike, run. The race organizers deemed the swim conditions of 62 degree water temperatures, wind whipped white caps, and limited visibility too dangerous.
I didn't mind too much. I had swam on a warmer, calmer day and still lost feeling in my fingertips, despite wearing a wetsuit.
I knew I couldn't stay dry. Between the constant rain, standing water on the roads, and effort-induced sweat, I would get wet.
In an effort to stay warm, I wore a merino wool long-underwear top, a wind-proof, water-resistant bike jacket, and cross-country skiing leggings over my regular tri outfit of shorts and a tank top.
I had a great race. I've never done a duathlon before, and I appreciated the new experience. Although, it did confirm why I've never signed up for one. As someone who will never call themselves a runner, I prefer to not do that activity twice.
Given the crazy conditions and dual run, warm food at the finish made my day. I didn't learn until later that the man at the grill had competed in the race, won by a full two minutes, then worked hard to serve the rest of us.
In fact, the winner stood behind the grill in his tri outfit of shorts and a tank top. He hadn't even paused to get dry or warm.
Have you seen any acts of selfless service lately? I would love to hear from you. Email me at [email protected], or share in the comments below.
Shameless plug: the winner, Kevin O'Conner, is the owner of a wonderful store, Gear West Bike and Triathlon. He's been competing in the Manitou Sprint Triathlon for half his life.