I hate to pack. My last two trips, I packed the morning I left. Thankfully, I've packed often enough that I have mentally ingrained lists for each type of trip.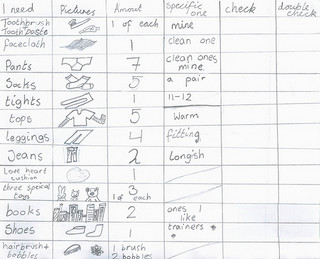 All of those lists, regardless if for canoeing through the Boundary Waters or hopping a plane to visit family, have three items in common.
Pack on every trip:
1. A Plan
Every outing requires a plan of some sort. What qualifies as an appropriate plan varies by individual and activity.
Do you like to fly by the seat of your pants and see what happens? Well, you still need to know your beginning mode of transportation and basic direction.
Are you a type A person who has the entire trip planned out to the minute? I doubt you'll ever forget your plan.
For my last trip visiting family in Michigan, I had the most basic of plans. I had flight arrangements. I knew how I was getting to and from the airport. I knew who's floor I would sleep on each night.
I also planned how I would continue my triathlon training by running and swimming while there. I even had the bus route to the public pool, bus fares, and lap swim times.
2. Flexibility
Plans are made to be broken. When was the last time your plans went perfectly? I can't remember the last time mine did. Flexibility allows us to go with the flow and still enjoy what's happening.
In Michigan, I had to be flexible with my training schedule. I arrived at the public pool confident that I would be able to swim laps. I had checked their website for their schedule, and the poster on the outside door confirmed those times. However, the inside doors were locked and the lights were dark.
Unfortunately, the previous week marked the change from winter schedule to summer schedule, and they had not yet updated their posters, website, or phone recording. When I finally got a person on the phone, she informed me the pool had closed for the summer.
Since I didn't swim, I decided to walk the 2.3 miles back. I enjoyed the summer sun as I walked through the cool morning. The bus passed me only moments before I reached my destination.
3. A Positive Attitude
Make the best of whatever happens. Who knows, problems in the plan may result in a better outcome than originally intended.
My flights both to and from Michigan connected in Chicago. I never actually saw Chicago this trip.
On the way there, weather delayed my first flight and cancelled my connection. The automatic rebook gave me a two day layover in Chicago.
When I talked to a check-in agent, she happily rebooked me on a direct flight that arrived two hours earlier than my original flight. On my direct flight, I had a window seat, with an empty seat next to me. How nice.
On the way back, a random FAA inspection delayed my first flight. I would not have made my connection in Chicago, so the gate agent preemptively rebooked me on a direct flight. I landed twenty minutes before my originally planned arrival. My husband hadn't even realized my plans had changed.
Both directions, I received direct flights due to normally aggravating flight issues. I stayed positive, the workers stayed positive, and I ended up with fantastic flights.
I might have forgotten a few small items in my last minute rush to pack, but I remembered the essentials: a plan, flexibility, and a positive attitude. They helped me have an excellent time.
What tops your packing list for every trip? Share in the comments below.
*Photo Credit: Steve Hodgson (craiglea123 on Flickr), Creative Commons License