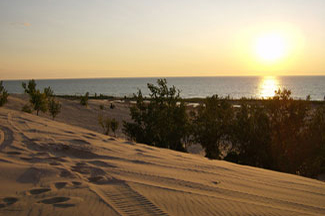 I am not looking forward to tomorrow. If all goes well, I will be driving 9 hours and covering over 500 miles. If I get up at my normal hour, I am scheduled to be driving through or around Chicago at rush hour. Great timing. Did I mention that I will be doing the drive alone?
So I planned something special with which to end my day. I hope to end tomorrow by sitting on a sandy, undeveloped beach that stretches as far as I can see. I will sit on the sand duned beach and watch the sun slowly sink into the sapphire water.
No, I will not be at the ocean, but you wouldn't be able to tell from a picture. Your nose, however, would give lie to the picture. There is no salty tang to the air, for the water that continues out past the horizon is fresh water.
Lake Michigan, one of the five Great Lakes, is one of my favorite places on earth. Its eastern shore is lined by sandy beaches contoured by the wind and waves into sand dunes. Many of these beaches are public lands, parks of some variety.
I will be enjoying one of these parks, Michigan's Warren Dunes State Park. Warren Dunes is only an hour and a half outside of Chicago, and yet it feels like a different world. Its three miles of sandy Lake Michigan beach are left in their natural state. The tallest sand dune reaches a height of 260 feet above the lake. It has 6 miles of hiking trails, 1,950 acres, and over 200 campsites, one of which I will be occupying.
I may not be looking forward to driving tomorrow, but I am certainly looking forward to the sunset.
Do you plan special treats for yourself at the end of a grueling day? Share in the comments below.
Photo credit: Pure Michigan