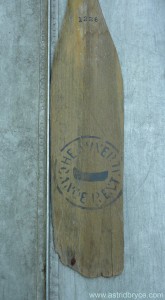 I just drove 1600 miles round trip to pick up and bring home a canoe. This canoe is nothing special to look at: an old beat up aluminum boat. Wooden planks reinforce the thwarts, signs of its years of abuse. Its keel may be broken, resulting in a slow leak. It is a heavy canoe, weighing at least 90 pounds. It is not designed to be carried, and does not have a portage yoke. It is wide, occupying almost the entire width of my Toyota Matrix.
I already own a canoe, a much newer, lighter, prettier one. The boat currently hanging in my garage is a beautiful, hand built, cedar strip canoe. It has been babied during its 5 year lifetime, minimizing the scratches along its length. It is a lightweight canoe, weighing only 55 pounds. The canoe's curved wooden portage yoke is both comfortable on the shoulders during a long carry and pleasing to the eyes while paddling. The canoe's tall, narrow shape allows it to carry a heavy load of gear swiftly through the water.
Why did I drive 1600 miles to pick up a clearly inferior boat?
Although the two canoes differ in almost every way imaginable, both hold a special place in my heart. Generations of love stories swirl about these boats.
During my parents' courtship, they enjoyed escaping the city by paddling a canoe down a not-too-distant river that twisted through woods and marshland. They always rented a canoe from the same outfitter, Heavner's Canoe Rental. Soon after they married, they moved near that same river and bought one of the old rental canoes from Heavner's. I grew up learning how to canoe in that boat. I took many trips down the same river where my parents' romance began.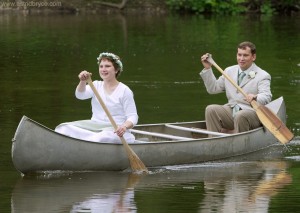 Years later, that old aluminum canoe traveled down the same river. It carried me and my new husband to a waiting crowd of friends and family. We arrived at our wedding reception in the canoe that my parents had bought as newlyweds. That is the canoe for which I just drove 1600 miles.
Just as my parents acquired a canoe as newlyweds, so did my husband and I. But we built our own by hand.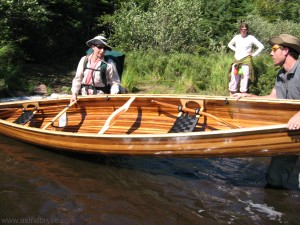 My husband began the project during our engagement. I had left for a 1.5 month trip only 3 months before our wedding, and he decided to occupy his time by building a cedar strip canoe.The boat looked like a canoe by the time I returned, but it would be another 2.5 years of joint effort before the canoe was seaworthy. I joke that it is still not done 7 years, and multiple trips, later. The canoe is a labor of love in many ways.
I wonder, will either of our two canoes play a role in the romances of future generations? I can only hope.
Do you have a story of multigenerational romance? Share in the comments below.