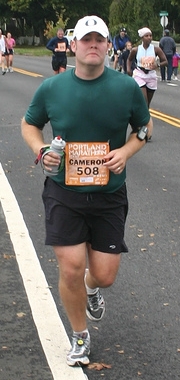 Have you ever "hit the wall", as runners say? That feeling that your energy is gone. There is no more.
Hitting the wall always comes when we are not quite done. There are still several miles left to run, bike, or hike. And we must complete those last few miles. We have to get home, or at least back to the car and motorized transportation.
Hitting the wall isn't limited to endurance sports. We can hit the wall in daily life, too. When was the last time you felt completely drained, and yet there was still so much that had to be done?
Hitting the wall in endurance sports is caused by burning through all the glycogen that was stored in the liver and muscles. The runner worked so hard and for so long that she literally had no energy source left. The runner tries to cope with this situation by slowing down and ingesting sugar.
Just as the runner tries to get through those last few miles by slowing down and rejuvenating the energy source, so can we. We can choose to slow down the pace of our life. Say "No" to that request. Decide to complete that non-vital task tomorrow. We can also attempt to rejuvenate our energy source. Take a brief break to do something fun. Go take a walk outside. Talk to a close friend.
But sometimes, we must complete those last few tasks before us. What do we do then? Just like an endurance runner, we just keep putting one foot in front of the other. Pick your next task, define its next step, and complete it. Focus on just that one action. You can do that one item. Yes you can.
Now, define the next step. Complete it. Just as a runner can complete a marathon by just focusing on one step at a time, we can achieve great things if we just do the next action.
Eventually, we will get there. One step at a time. You can do it.
How do you cope when you hit the wall? Share in the comments below.
*Photo credit: Betsy Watters (Creative Commons)