Do you have a daily coffee ritual? I know that I look forward to my coffee each day. Coffee can be a constant in life, especially in times of change, or travel. On each of my trips, I always plan where the coffee's coming from, like on this trip to California.
Coffee in California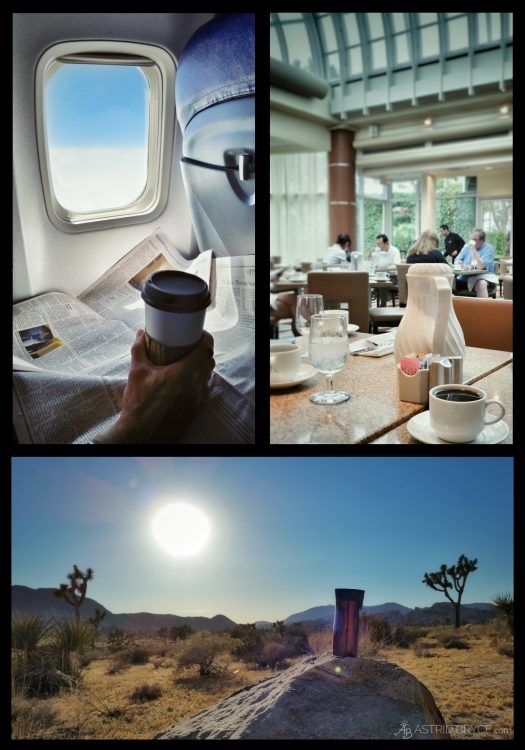 Click on the image for fullscreen. Lightbox and slideshow options are available through this post.
A family wedding in Los Angeles brought us to California. My husband and I decided to tack on four nights in Joshua Tree National Park, only a two and a half hour drive east of LA. The combination of a fancy LA wedding and desert camping led to some interesting extremes, both in our experiences, and in our packing.
Of course, I took plenty of pictures. Part way through the trip, I realized that I happened to have some fun pictures that had coffee in them, in very different environments. Clearly, I had to complete the series, and form a collage. Of the three pictures featured, only the desert scene intentionally focused on coffee. Yes, those are Joshua Trees in the background.
Coffee on the Quest
That collage triggered the storyteller in me. What were those images saying? This is what the collage said to me: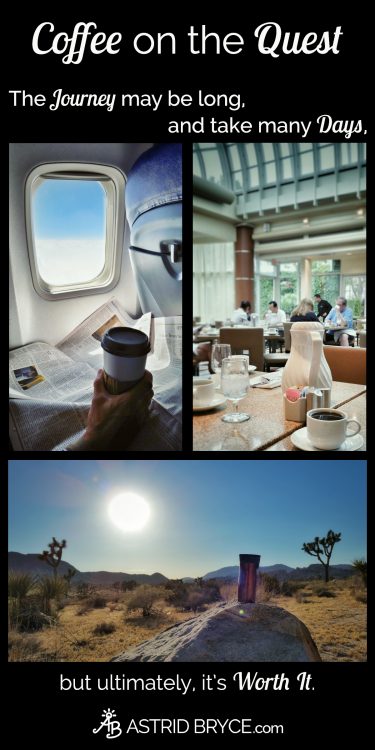 Click on the image for fullscreen. Lightbox and slideshow options are available through this post.
What is your quest? Are you trying to lose weight, finish a large project, or just stay sane? Does it require a long journey of many days? Take heart. If your quest is truly important to you, achieving your goal is worth the work.
If you would like this picture as a reminder, here's a free download. Feel free to share or use it as you wish, so long as you don't alter it. Thank you for liking and respecting my work.
The Best Camera is the Camera you Have
On this trip, my husband and I took many pictures, the majority on our cell phones. We always had our phones on us, and they were fast to pull out and grab a quick shot. Additionally, it was safer to scramble over rocks with a small cell phone in our pocket. I tried scrambling once with the nice camera dangling around my neck. I feared for its, and my own, safety. Forty feet up in the air with no safety rope, it's better to focus on hand and foot holds rather than a camera.
All the pictures in the above collage were taken on my cell phone. I only used the computer to have finer control of the actual collage layout than I knew how to do on my phone's apps. This trip solidified the appreciation I have of the powerful cameras we carry in our pockets everyday.
Do you Want to Learn More about the Camera in Your Pocket?
My smartphone photography project is merely days from going public. If you want a sneak peak, drop me a line, or leave a comment. I'd love to help you!
Coffee in California, or Coffee on the Quest, Which do you Prefer?
Does the collage say something different to you? Which do you like better, the image only Coffee in California, or the interpretation of Coffee on the Quest? What is your quest? Share in the comments below.