As I write this, snow falls from the sky, but the warmth of summer is always in my heart. Is summer still in your soul?
If you need a reminder, let me present this picture from an early August evening. It is my personal epitome of summer. The world is lush and green. Lakes invite play from children, animals, and boats. Puffy white clouds dot the sky.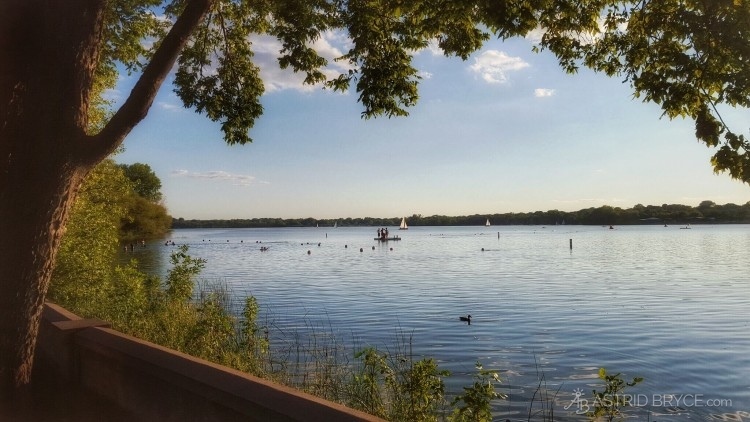 As always, click on the image for fullscreen. Picture taken by Astrid Bryce at Lake Nokomis.
I took this picture after swimming across the lake, from the buildings visible as dark shadows on the opposite shore (far right), to the beach on the left where the children play. Since I swam across, I did not have my phone, or any other camera, with me.
But the scene was simply too ideal to let pass without a few pictures. Happily, my husband had met me at the far side, and he let me borrow his phone. Thanks again, Love. This is one of my favorite pictures of summer time.
Looking at this picture, I can feel the warm sun on my face, the wind teasing my hair, and hear the laughter of the children playing on the raft. I remember a time when a towel wrapped around my waist was all the covering I needed, instead of the thick puffy coat I now need to venture out into a cold world of biting wind and winter solitude.
Don't get me wrong, the winter is a wonderful season itself. Only in winter can I build snowmen, cross country ski through snow covered woods, or sing Christmas songs without someone giving me a dirty look. Still, sometimes we need a reminder of the warmth and energetic life of the summer.
What's a Quick Picture?
You may have noticed that this is labeled as a Quick Picture. It's the first one I'm posting on this newly themed website. A Quick Picture is one that I took and processed on my cell phone, like an Instagram picture. I found I was being too picky, too perfectionistic on what pictures I chose to share with you. By identifying some of my pictures as Quick Pictures, you'll get to see more of my random pretties from life. What do you think about that?
This is my ideal summer. What does the summer in your soul look like?
What does an ideal summer day look like for you? Start the conversation on Facebook or Twitter.