Happy New Year! I took advantage of the time off, bright sun, and fresh snow to go cross country skiing with my husband. He's in the picture. Can you find him?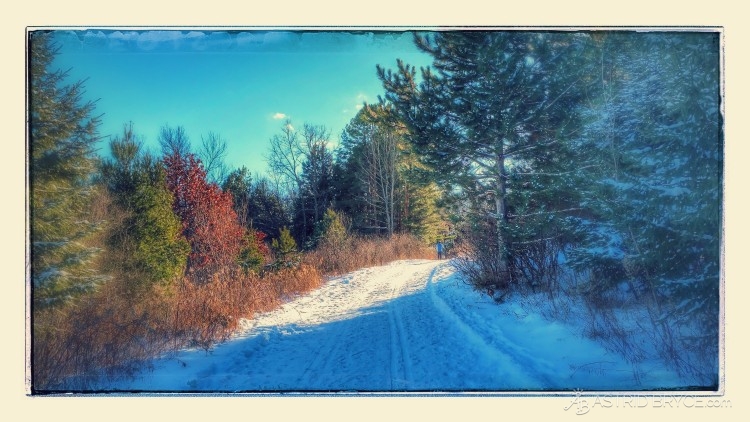 As always, click on the image for fullscreen. Picture taken by Astrid Bryce at Lebanon Hills Regional Park
This was my first ski outing for the season. I really enjoyed the contrast between the darkness of the blue shadows and the brightness of the golden sun. I was not wearing sun glasses, so squinted at times at the intensity of the sunlight reflecting off of the white snow. My husband, on the other hand, wore sun glasses, and felt lost in the dark when we went into the shadows of the trees.
This was also my first time on real snow in about two years. Last year, we never had enough snow to ski. We went once to someplace that makes snow,  but that hardly counts. Here's hoping that, this year, the amount of snow on the ground only grows in amount until at least the end of February. It's allowed to melt in March.
What's an Auto-magic Picture?
You may have noticed that this is labeled as an auto-magic picture. It is the first one I'm posting on this newly themed website. An auto-magic picture is a picture that I took, that got uploaded to Google Photos as a form of backup. Google Photos Assistant then decided, on its own, to stylize the image in this fashion. I did nothing other than take the picture, and I get this! Pretty cool. That's why I call it auto-magic.
I'll be posting some of my other auto-magic pictures from 2015, and back dating them. Look for them in the coming days.
On New Year's, I started my cross country ski season. How did you mark the New Year?