I must have been a fish in a previous life. If not a fish, then at least something aquatic. I love the water, and never get seasick.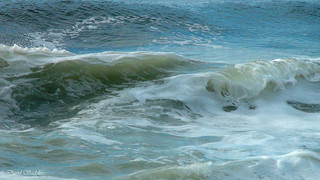 I just returned from a week trip to the Florida Keys. While there, I stayed on a houseboat and spent the majority of my time scuba diving.
True, I did spend multiple hours a day on dry land, but those hours were outnumbered by the ones spent on or under the water. My time connected with the water was enough to give me my sea legs. When I was on solid ground, the world swayed continuously as if I were still on the water.
I love the motion of water. The day we had 5 to 8 foot waves, I beamed with pleasure while riding the dive boat. A few days later, when the seas calmed down to 1 to 3 feet, I shared my disappointment with my husband. He laughed at me.
I realize most people do not share my enjoyment of the waves. At least one person succumbed to sea sickness on each dive trip. Even my husband, who is typically iron gutted enough to fry falafel down in the belly of a sailboat angled at 35 degrees, had to fight motion sickness on this trip.
Not even the fish seemed to enjoy the conditions. They tucked themselves into nooks and crannies as best they could to escape the continual motion of the water, but often it was not enough. I saw many a fish desperately maneuvering to not whack into the objects around them.
One of the most common causes of seasickness is focusing on an object near to yourself, such as reading a book or performing a complicated manual task. The object of your focus has the same relative motion as you, so appears stationary. The disconnect between the motion sensed by your ears and the lack of motion sensed by your eyes produces motion sickness.
The easy solution to that form of sea sickness is to focus instead on the horizon. Then, your eyes see the same motion felt by your ears.
Like water, our lives are constantly moving, shifting. Very little stays solid. We know this in some part of ourselves, whether we are conscious of it or not. If we keep our focus too narrow, we lose track of the overall flow of our lives, we do not acknowledge the change. Like in seasickness, this can cause feelings of discomfort and unease.
A remedy to those bad feelings is similar to when on a boat. Look at the big picture. Focus on the horizon. Acknowledge the change, and move accordingly.
Is your life making you seasick? How can you change your focus to feel better? Share in the comments below.
*Photo Credit: David Saddler (the bridge on Flickr), Creative Commons License